For tech companies, the regulatory environment is tougher now than ever before.
To protect national interests, governments are using compliance to restrict companies that could potentially disrupt established industries which can creating a knock on effect for tech companies. Rapidly expanding companies also face a wider range of individual regulations as they expand into new territories, be it employment law, taxation, product safety or licensing.
Growing data anxiety
As citizens become increasingly uncomfortable about threats to their personal data and privacy, governments are cracking down on the companies responsible for hosting that data and keeping it secure. Worldwide, regulators have made it clear that they are becoming tougher on tech companies creating some of the most pressing compliance issues.
Taking a positive approach to regulation
Tech companies must build into their products the functionality and capability to comply with a large and diverse set of sometimes conflicting international standards. They must give their customers a high degree of confidence that their services and products are secure, protect their privacy and support compliance with other standards. And, if that isn't enough, tech companies need to protect their own infrastructure and data as – if not more so than any other organisations.
Yet expanding tech companies should also remember something very important: approached correctly, regulation needn't be a problem. It can create competitive advantage. The good news is that the actions tech companies need to take to secure data from a regulatory standpoint are about the same as the actions they should take to ensure adequate protection.
Without transparency, compliance simply isn't possible.
As well as demanding stronger data protection, regulators expect tech companies to be transparent about where, how and why they are storing customer data. Transparency and clear communication is particularly important for companies that provide a B2B services where without clarity it can provide a reason not to utilise the cloud.
Building relationships on the ground
One of the concerns that regulators have about global tech companies is the relative lack of control they have over them. Tech companies that anticipate and respond to potential distrust from the outset can avoid excessive regulatory scrutiny. By building stronger relationships with regulators, they will likely find it easier to build their presence overseas.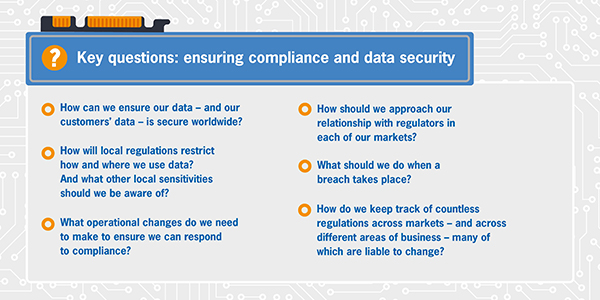 Read full chapter
Download PDF [3908 kb]