Corporate 'Fear of Missing Out' spurs business leaders to expand abroad
More businesses are spurred on by a 'fear of missing out' (known colloquially as 'FOMO') than by a positive desire for growth when expanding abroad, according to new research from Grant Thornton's International Business Report (IBR).
The study of over 2,500 senior executives worldwide shows that business leaders are a fifth more likely to expand when presented with a negatively framed scenario than with the exact same scenario that was framed positively. Similarly, senior business figures are nearly a tenth less inclined to expand when presented with a positively framed scenario.
Reinforcing the findings, more than a quarter of businesses worldwide cite a desire to keep up with competition as a factor behind their international expansion decisions.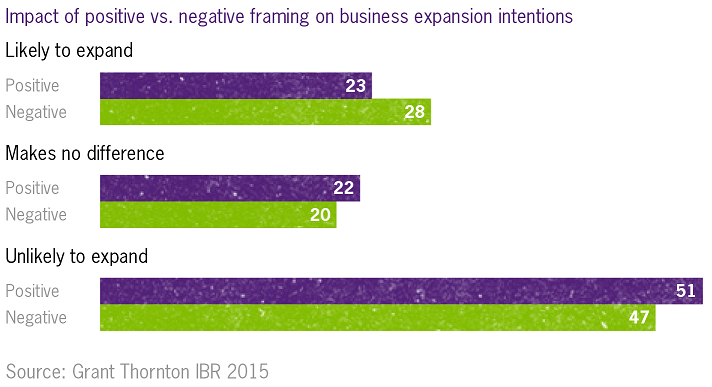 Using behavioural science techniques, this illustrates some of the psychological factors that can influence businesses' decision to expand into new markets. The study also reveals significant regional differences.
This 'fear of missing out' is most pronounced in developed markets, including the US and Western Europe, where negative framing has more than five times the impact that it does in emerging economies, such as China and Brazil.
Francesca Lagerberg, global leader for tax services at Grant Thornton, commented: "We know from behavioural science that we tend to place a higher value on loss than on the equivalent level of gain. Our research shows that this is true for business leaders too. The fact that business leaders respond better to negative framing suggests that corporate 'fear of missing out' can be a key influence on business decisions. The greater impact in developed markets suggests that businesses are more aware of 'first mover' advantage, or perhaps are more focused on retaining rather than expanding market share.
"The findings have important implications for both governments keen to increase foreign trade and for those advising businesses. It's important not to counteract or stifle business instinct which can be critical for growth. Instead, we must work with businesses to harness this instinct by framing choices in the right way and thereby help leaders to make the right decisions."
Business leaders base growth decisions on 'gut feel'
However, business leaders are more than willing to admit the role that instinct can play in their decisions. More than half admit that they chose a foreign market based on gut feeling. This was the top factor in the decision of where to expand, followed by access to a key market (49%) and proximity to clients (41%).
Francesca Lagerberg added: "There are a huge number of variables that must be taken into account when making business decisions. Business leaders face immense execution risk on a daily basis, demanding speed, judgement and accuracy. They build up an instinct for growth during their careers and it is this experience that enables them to make swift decisions while taking these factors into account.
"It is important to note that these instinctive ways of thinking and behaving are not inherently wrong or bad. Rather they are shortcuts which have been learnt and acquired over many years. Often they are extremely helpful in making decisions quickly and efficiently, but they can also lead to irrational decisions. And it's clear from our results that the precise reasons behind these decisions can often remain hidden even to those who make them. For business leaders looking to expand abroad, a key challenge is when to 'go it alone' and when to ask for advice."